In the insurance industry, personalized guidance is crucial. Here, an insurance appointment setter can be the center stage. 
An insurance appointment setter is the expert in creating opportunities for insurance agents to engage with individuals and businesses seeking insurance solutions through adopting different techniques.
To see most clients becoming leads, which in return helps in business growth, then nothing can be a better option than an insurance appointment setter. A meeting scheduler needs to do multi-tasking. From initiating warm conversations to filtering leads that additionally help in the sales process. 
Today, we will explore the core responsibilities and essential skills that define the role of an insurance appointment setter. 
What Is An Insurance Appointment Setter?
An insurance appointment setter is a professional who works within the insurance industry to schedule appointments with quality leads in a reliable way where expertise is gained through training and experience. 
For any successful business, lead generation is the foremost and requires a good amount of effort. An appointment setter helps the most by bridging the gap between insurance agencies and potential clients.
Schedulers contact potential customers on behalf of an insurance company. Then, set appointments by discussing their insurance needs.
They adopt many techniques, such as outbound calls and cold mail, and use different sales channels to do so.  
These professionals have a vital contribution to the insurance sector's success.
What Does An Insurance Appointment Setter Do?
An appointment setter sets appointments ready for sales conversion. They find customers seeking insurance help and then start a warm conversation. This mainly differentiates lead generation and appointment-setting services.
The focus includes four steps: finding potential prospects, filtering out leads, trying to build a relationship, and finally, setting an appointment. 
Whether you are a business owner or an appointment setter, you know these reps have great contributions to quality leads. Their job is portrayed as a bridge between the sales team and prospects or as the initial step of a sales journey.
Many insurance appointment-setting services give top-notch service to clients. If you are not into becoming an appointment setter, then these service centers can help you.
Top Responsibilities Of An Insurance Appointment Setter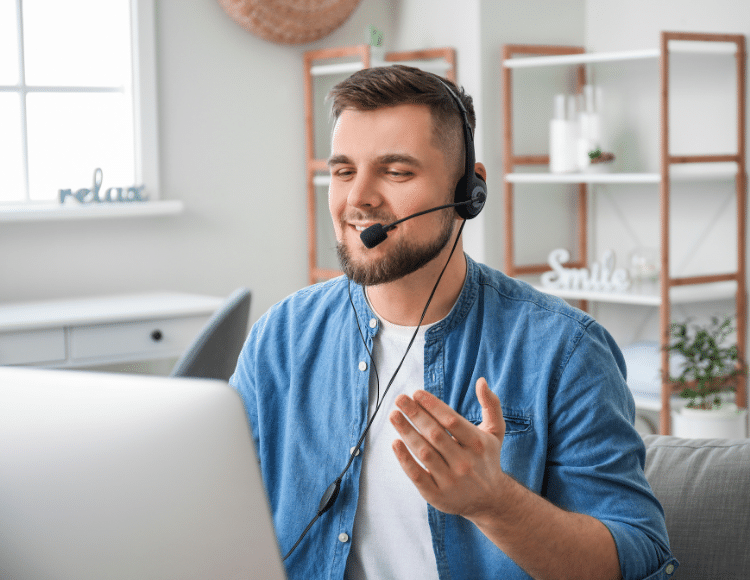 Though the primary responsibility of an insurance appointment setter revolves around lead appointment setting, there are some more top responsibilities.
1. Insurance Product And Service Familiarization
As an insurance appointment setter, the first task is understanding the company's services, products, and niche and getting familiarized with the whole environment. 
In a word, there should be high expertise in the niche. Whether it is life insurance, health, or other services, in-depth knowledge is a must.
While reaching out to the client, there would be tons of questions and common concerns. To carry out a natural conversation with the prospects and give the exact answer can be tricky with a lack of knowledge. 
This differentiates the role from any telemarketer agent. A telemarketer only targets to sell products, hence keeping product-related knowledge. 
But lead generation almost depends on the appointment setter, so being an expert on the field or service is necessary. Thus, meeting setters can act like a professional with a natural tone in their conversation while setting up meetings with businesses or individuals.
2. Outbound Calling
Successful outbound calling as an appointment setter often requires persistence and resilience. Not every call results in an appointment. But consistency is the best practice here to get the appointments for insurance agents.
The appointment setters have solid expertise in cold strategies such as cold calling and cold email. 
The strategy starts with a list of databases to reach out to potential clients who match the demographics and needs of the insurance products.
Since there is good familiarization with insurance products already, script preparation greatly helps. This ensures that the key information is clear and consistent. 
There should be effective communication skills with a clear intro that states the purpose of the call concisely. 
Once prospects get interested, the next step is setting up an appointment with an insurance sales team or broker.
3. Inbound Insurance Client Interaction
Both handling inbound and outbound calls is an insurance appointment setter's responsibility. This type of interaction is handled by an inbound telemarketing or outbound telemarketing team, where the meeting setters work in a team.
Handling incoming inquiries, calls, or messages from potential clients showing interest in insurance. This ensures inbound client interaction.
There can be tons of questions from consumers. Sometimes, it may seem frustrating to answer. But as a professional, the interaction should be the most, whether there is a confirmed deal or not. 
4. Facilitating Insurance Consultations and Addressing Insurance Queries
The insurance sector is like a technical thing, where the main focus is financial support. In general, people can not understand these terms and need a deep consultation. Here, they share common concerns and queries since it is related to their investment.
Being an insurance appointment setter, facilitating insurance consultation primarily is crucial. If the customer genuinely feels the company can offer better things, only then they will go for an appointment. 
As the arrangement setter gives the first impression, it should be engaging so it lasts longer.
With some basic solutions, booking a free consultation is a good option. Many companies give these facilities where other sales reps give brief descriptions of the service. 
5. Logging Client Interactions
Logging client interactions is essential for an insurance appointment setter. This tracks progress, maintains organized records, and improves efficiency.
Insurance appointment setters can leverage this data for analysis and improvement, which can enhance their performance and provide better service to clients.
Maintaining detailed records of client interactions means effective follow-up and communication. This includes recording the outcome of each contact, whether it's a scheduled appointment, a request for more information, or any specific client preferences or concerns.
Usually, an appointment setter starts with selecting a suitable platform or tool to record client interaction. Then, create individual clients' profiles with a logging system. Add the relevant details immediately after they occur, which ensures up-to-date records.
Clearly document the outcome of each interaction. See if you successfully schedule an appointment, provide information, or address a concern. This helps measure progress.
Lastly, ensures that client data is securely stored and only accessible to authorized personnel. 
An insurance meeting scheduler must adhere to ethical and legal guidelines.
6. Attempting To Contact Prospective Insurance Clients
While inbound and outbound strategies are great ways to contact prospects, there are other effective sales channels. Meeting setters can attempt to reach out to clients through these.
It can be cold emails, social media, website interaction, or so on. Social is now powerfully dominating digital marketing, and the chances are high to get more potential customers.
If the company has a website, then through organic traffic or engagement, a list of those people can help reach out to prospects later. 
7. Feedback Loop With Management
Implementing a feedback-driven loop is not only the responsibility of the appointment setter but also improves performance by enhancing overall customer satisfaction. 
The main concept is getting reviews and feedback from customers during or after each interaction and then analyzing them. Using questionnaires or simply asking their thoughts broadly helps.
It needs regular management to look for new trends or areas of improvement, like the overall approach. You need to adjust to continuous changing according to the client's needs and market dynamics. 
This should work in a loop that works on a regular basis. 
8 Qualities And Skills For An Ideal Insurance Appointment Setter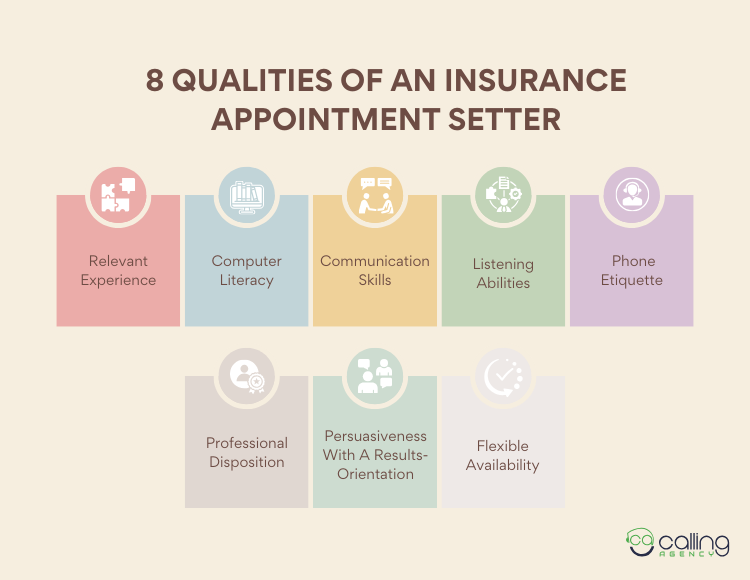 An ideal appointment setter combines some qualities and skills. However, even if you are interested in becoming a remote appointment setter, these skills are foremost. Continuous training and coaching can help refine the skills and adapt to changing market conditions.
1. Relevant Experience
Having relevant experience with insurance processes is a significant advantage. The experience can be anything in the sales team, as a telemarketing, or appointment setting in other sectors. 
It is not mandatory to have experience. The process becomes easier to understand the work, how to work in a team, communicating with individuals, and so on. 
Sometimes, the newbies can also work better than experienced ones because they can use modern tools and trends effectively.
2. Computer Literacy
Proficiency in using computer software and CRM systems is important for a smooth workflow. It helps manage client databases, schedule appointments, and log interactions accurately.
With modernization, computer skill is most important in any marketing business. 
Tracking results after working with tons of customers is not easy unless you have a good knowledge of computers and modern tools. 
3. Communication Skills
Excellent communication skills are the foremost for any appointment setter. The whole meeting set broadly depends on how you approach your customer. 
There should be perfect manners, etiquette, a good sense of humor, and the ability to make the client feel comfortable with you. Here, effective verbal and written communication skills are essential for building relationships with potential clients.
The call should start with a professional and friendly introduction. Also, include your name and the company you represent.
Clearly communicate the benefits and value of the insurance products you are offering. Explain how the insurance can address the prospect's specific needs and pain points.
4. Listening Abilities
Active listening skills enable appointment setters to understand client needs, concerns, and objections. This allows them to tailor their responses and solutions accordingly.
An address like "I understand," "Please go on," or "That's interesting" to show that you are actively listening.
Make sure you have great listening ability before joining the job. It may require a lot more patience than you think.
5. Phone Etiquette
Polite, professional, and respectful phone etiquette is vital when engaging with clients. There are some basic phone etiquette that can enhance communication skills, too.
The tone matters most before wording while talking over the phone. The tone should be friendly and respectful.

Many ignore greeting approaches like saying "Good Morning" or "Good evening." This is a part of phone etiquette.

Use proper language and avoid using offensive or inappropriate words.

Staying focused on the conversation and avoiding multitasking or distractions.

Before putting the caller on hold, ask for their permission and provide an estimated wait time. Check back with them periodically.

Before ending the call, ask if the caller has any additional questions or needs.

Avoid arguing or getting defensive.

Courteous phrases like "Please" and "Thank you" when appropriate.
6. Professional Disposition
Maintaining a professional profile is tough if you face rejection or difficult conversations. Professionalism fosters trust and credibility with clients.
No matter how rude the client is, you need to try to handle it politely. Otherwise, it can damage the company's whole reputation. 
7. Persuasiveness With A Results-Orientation
The ability to persuade potential clients and influence their decisions is a key skill. Ideal appointment setters stay focused on positive results.
8. Flexible Availability
Flexibility in terms of work hours is important, as clients may have different schedules. Both the customer and sales team time should align so the appointments are not rescheduled or missed.
Along with being available during evenings or weekends, if necessary, can increase the chances of successful interactions. So, an insurance appointment setter should have good time management ability. 
Verdict
What an insurance appointment setter does can not be answered only with a simple answer. 
Their job involves generating leads, setting meetings, building relationships, revolving themselves with new trends, having deep knowledge about the service, and many more.
However, being a meeting scheduler is a challenging task. It requires proper training, knowledge, and patience. But if carried out properly, it can be responsible for generating most leads.