Telemarketing is widely known as outbound marketing then "What is Inbound Telemarketing?" 
Inbound telemarketing is an innovative and non-intrusive strategy that works as high-value sale channels. Unlike outbound marketing, in inbound telemarketing, prospects proactively contact the company.
From creating brand awareness, building long-term relationships, and nurturing organic leads to additional revenue, inbound telemarketing can work like a magical tool.  
There are many more benefits, but how can you apply this strategy? Certain steps and criteria are involved where companies attract clients and close a sale.
Today, we will dive deep into inbound telemarketing and how the strategy works. Also, how you should approach getting the best result out of your business.
What is Inbound Telemarketing? 
Inbound telemarketing is a permissive and customer-oriented marketing strategy in which businesses receive incoming phone calls from interested individuals, who may take a purchasing action or seek information. 
Inbound telemarketing plays a crucial role in the sales funnel. Contrasting with outbound telemarketing, this approach facilitates customers to contact companies actively.
Here, the company and customer get an advantage by which the whole sales funnel functions seamlessly. Customers are not irritated but rather become happy most of the time.
This approach is typically used to generate sales leads. Thus becoming an integral part of call center or customer service. 
The whole technique depends on several channels. It can be social media, websites, different campaigns, content marketing, etc.
Simply, outbound telemarketing, where businesses initiate calls to potential customers. Inbound telemarketing strategy involves responding to inquiries, requests for information, or orders that customers make over phone calls.
Why Do You Need Inbound Telemarketing?
Inbound telemarketing is highly profitable when it is about quality leads and closing a deal. But with outbound cold calls, consumers more often become irritated and never take action.
Telemarketing most often takes place at a later stage in the sales journey. Still, it is one of the powerful sales channels of inbound marketing.
Have a close eye on two statistics: 92% of clients interact via phone call, and approximately 20% sales opportunity increase only with nurtured leads.
So, connecting with your consumers over calls becomes integral to getting more success in inbound marketing.
However, look at some more significant advantages of inbound telemarketing.
Nurture Leads Organically
Whether it is a B2B or B2C customer, they first research the product or service before purchasing something. Then, go for the inbound calls for further inquiry. 
With a skilled sales team, they then communicate and sell the product. Sometimes, they may advertise other products. This nurtures the leads or makes warmer prospects, greatly benefiting the business.
Create Brand Awareness
For long-term brand awareness among the users, the role of inbound telemarketers is significant. The key concept is customer satisfaction. It makes them remember the brand and spread positive reviews.
More Engagement 
Inbound call center services work effortlessly to give the best customer service. Businesses that adopt this kind of technique, along with clever marketing activity, experience a high engagement rate. 
The reason is apparent: customers will stick to the brand if they are happy. Also, promote it among family and friends.
Cheaper
Inbound telesales only reach out to a small community. Instead, they wait for customers' calls. So the marketers can spend less bucks. 
Agility in The Sales Strategy
With inbound telemarketing, closing a sale is quicker and easier than outbound. Customers have the opportunity to know about the product in detail. In the meantime, the telesales team continuously tries to convince users to pick the product. 
Increased ROI
ROI is a financial metric to measure a company's performance. Numerous businesses claim that inbound telemarketing has enhanced their marketing strategies' outcomes. This results in a significant Return on Investment, with individuals converting into satisfied customers.
Increase Average Order Value (AOV)
Inbound calls widely support customers with product recalls, discounts, referrals, re-stock, and so on, which increase the AOV rate.
How Does Inbound Telemarketing Actually Work?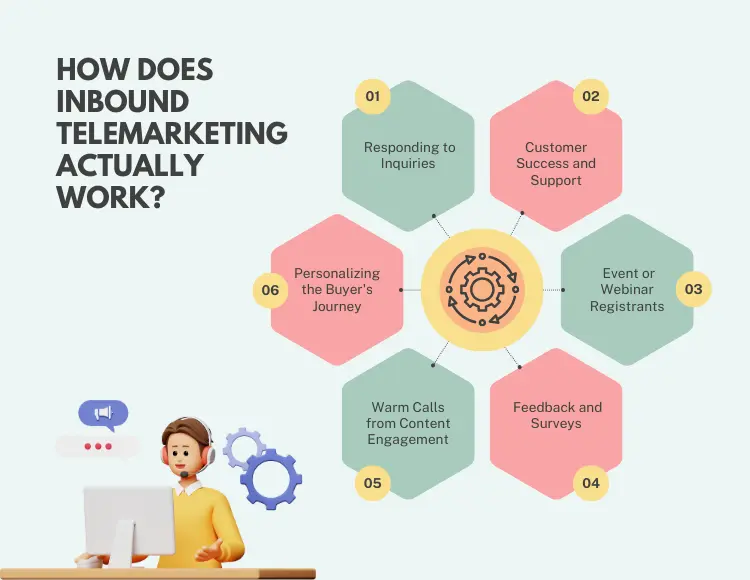 An inbound telemarketer team works proactively to solve customers' problems, guiding them with exemplary service and advertising products in a non-interrupting way. 
Before beginning with your inbound or outbound telemarketing, do deep research about the product you want to launch and its ideal customer. The entire team must have a deep understanding.
The whole process begins much more before inbound telemarketers come into work. First, the inbound marketing strategies are applied to encourage people to call. When the user becomes interested through the contact information, they call inbound operators.
Later on, the sales cycle of telemarketing starts. It mainly involves four stages with several techniques.
Customers get engaged in attractive inbound content

Seeks for additional information

Contact with the inbound operators 

Negotiates the deal
Inbound telemarketing stands with some more common techniques. 
1. Responding to Inquiries
Responding to inquiries is a common type of inbound telemarketing. Here, a sales agent or sales team listens to the customer's questions and queries. Then, he replies accordingly.
The agent needs to clearly understand the questions or problems. So the answer can be relatable. With an improper answer, the listener may become irritated and leave the conversation.
Whenever a purchaser faces any problem, 62% of them tend to get a solution from the seller. That's why operators need to be reactive.
For this, research in social media, queries to find out common problems. Note down the solutions that can be helpful. Those answers should be detailed with feasibility.
2. Customer Success and Support
A call center is widely known as customer care or customer support service. Customer service is assumed essential by 58% of customers. That works as a determining factor in their brand selection.
A help desk may handle all the phone calls, where customers mainly call for service.
For example, if you are producing some cosmetics products. There should be certain rules on how to use them. Even if there are guidelines, prospects may still become confused. Hence, they make a call and seek out support.
Inbound telemarketers play the role of a consultant. Customers assume them as advisors. A customer support center includes a team of those advisors.
A 24/7 customer center can grab people's trust because they know they can get information at any hour. 
A most effective tool can be CRM to manage calls across several platforms and get to know customer history quickly. 
3. Event or Webinar Registrants
Inbound marketing arranges events or webinars to promote products. Telemarketers can utilize this opportunity after someone registers for an event or webinar. Agents can encourage people to give confirmation calls later.
They may also use this opportunity to provide event details, set expectations, and offer additional resources related to the event. 
4. Feedback and Surveys
After giving customer service, agents may ask for feedback on customer service and can ask them to call later for feedback. This is a decent manner of taking permission from the clients so they do not get any sudden calls.
By doing this, it is easy to gather feedback and conduct surveys. This helps in understanding customer satisfaction, identifying areas for improvement, and making data-driven decisions.
5. Warm Calls from Content Engagement
Content marketing is the key point of inbound marketing. Once prospects themselves get attracted to content, such as downloading a whitepaper or watching a video, it is time for a warm call.
First, the content-making team should advertise intensely the calling details in their content. It should be bold and detailed with eye-catching features, so the prospect can make a call easily.
When the prospect initiates the contact, the inbound telemarketers can try to solve their problem or provide more information about what the customer asks for. And then they can gauge more interest in selling the product or service. 
Here, pre-script writing is recommended. You can get help from your content writers. It helps to stay consistent while talking with customers and prevent mistakes. All the answers and information agents can give an immediate response.
However, with experienced and skilled marketers, there is no need for such a script. They can carry out natural conversation. You can also hire an affordable & experienced remote cold caller.
6. Personalizing the Buyer's Journey
Personalizing the buyer's journey in inbound telemarketing is a crucial strategy to engage and convert leads effectively. Here are some key steps to achieve personalization:
Gather and maintain comprehensive data about your customers who somehow interacted with your business before. This data may include demographics, purchase history, website behavior, and preferences.
Divide your leads into segments based on behaviors. This allows you to tailor your approach to each group's needs and interests.
Develop content that addresses their pain points, goals, past interactions, preferences, and interests. This can include personalized scripts and call talking points.
Make calls at times that align with the lead's preferences. 
Develop follow-up sequences that are tailored to each lead's behavior stage in the buyer's journey. For example, those who have abandoned a shopping cart may receive different follow-up calls than those who have just purchased.
Experiment with different personalization tactics and measure their effectiveness. Adjust your approach based on the results to optimize your telemarketing efforts.
How Should You Approach Inbound Telemarketing?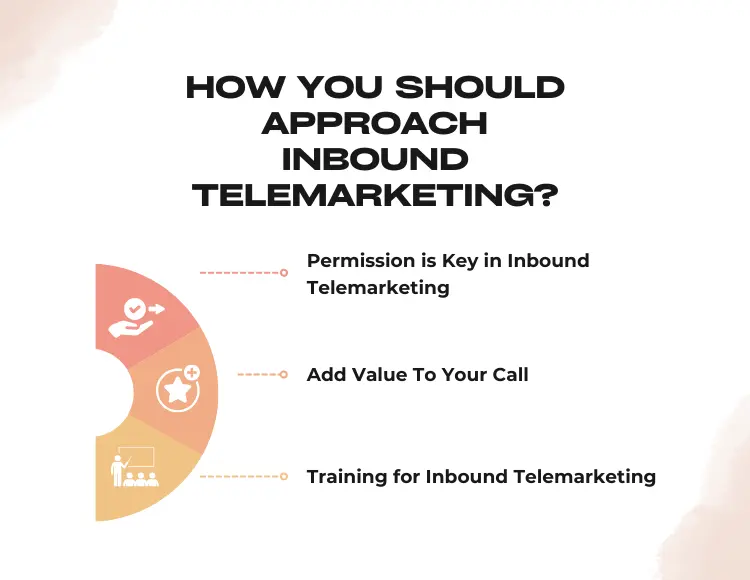 When approaching inbound telemarketing, focusing on going forward with permission is essential.
Each call should be seen as an opportunity to provide assistance, and ultimately convert them into happy customers. 
Here are three fundamental principles to keep in mind:
Permission is Key in Inbound Telemarketing
The whole inbound marketing relies on customer permission. The core should be calling individuals willingly interested in the product. Otherwise, the strategy would work like outbound telemarketing, and that is not the goal.
This permission can be website sign-ups, newsletter subscriptions, other opt-in methods, or a direct phone call.
Always respect the preferences and consent of your leads. If someone wants to unsubscribe, honor their request promptly.
Add Value To Your Call
Your goal in inbound telemarketing should not be only to make a sale but also to provide value to the recipient. 
Actively listen to the lead's concerns and offer relevant information and solutions to their pain points. Be informative, educational, and consultative rather than pushy.
Show empathy and a genuine desire to help by providing answers to questions and addressing objections professionally.
All these build solid trust and relationships, a crucial part of lead generation.
Train for Inbound Telemarketing
Continuous improvement approach through training inbound telemarketing efforts become more effective and customer-centric.
At QCS, inbound agents train through different modules to achieve mastery and handle any situation. 
Sales training includes understanding the importance of a friendly and professional tone, objection handling, having updates on industry trends, blending with new approaches, and so on.
This session is most important, as agents are the only ones communicating with clients.
Verdict
Telemarketing is popularly known as outbound marketing, without knowing inbound telemarketing has a vast impact too. 
Inbound telemarketing is permissive. Here, the customer is not forced to buy a product. Instead, they comfortably seek out agents for their problem solution or order confirmation. 
Inbound telemarketing is a must to get quality prospects and build brand awareness.