Solar Appointment Setting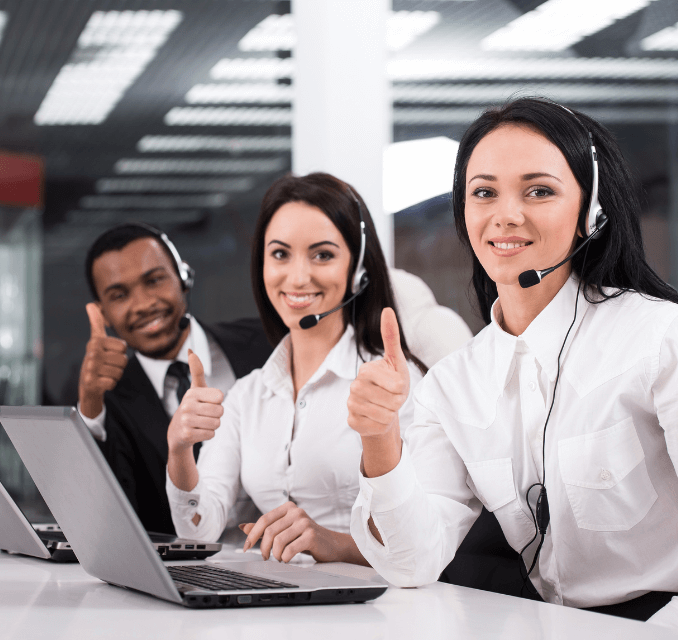 Elevate Your Business with Our Professional Solar Appointment Setter
No matter if you are an established solar company or a struggling startup, we're here to boost your solar sales with our cutting-edge Solar Appointment Setting service. We understand that quality leads are the sunbeam in the cloudy sky of the solar industry. Keeping that in mind, we've developed our team with expert appointment setters who want to know your business objectives. This seasoned team of professionals, armed with extensive market knowledge, leverages advanced, targeted strategies to guide your potential customers right to your doorstep. Through our personalized service, we work closely with you to understand your specific needs, creating a seamless sales journey aimed at increasing conversions.
What Our Solar Appointment Setting Service Offers
Solar Industry Expert Cold Callers
We carefully select only expert cold callers to be part of our team. Each team member possesses substantial knowledge and expertise in handling the solar appointment process and providing necessary support. This proficiency allows them to secure solar appointments with minimal effort, time, and investments, all while maintaining the integrity of your brand image. Furthermore, our team excels at converting warm customers into valuable leads, thereby increasing your business potential. After all, our expert team only create plans that can bring sustainable success for your solar business.
In-Depth Solar Market Knowledge
At Calling Agency, we pride ourselves on our comprehensive understanding of the solar market. Our team stays constantly updated on industry trends, emerging technologies, policy changes, and customer preferences. This in-depth knowledge equips us with valuable insights that we leverage to craft tailored messages for each prospect. By aligning our approach with the current market landscape, we ensure that our appointment setting efforts resonate with potential customers, enhancing the chances of successful engagements. Also, we provide rigorous training to our team to retain the quality in our service.
Targeted Solar Demographic Profiling
Our experts target only the most suitable prospects to increase the likelihood of securing more solar appointments. We've developed a solar database that contains information on thousands of homeowners who are likely to consider solar installations in the near future. Therefore, we concentrate our campaign efforts on these individuals, which allows us to generate a higher number of solar appointment leads. This approach also helps us categorize potential customers as 'hot', 'warm', or 'cold'. To convert the 'warm' and 'cold' leads into viable prospects, our experts employ customized strategies, thereby yielding improved results.
Seamless Appointment Scheduling
Our service takes care of the entire appointment scheduling process, providing a seamless experience for both your team and potential solar customers. We leverage advanced scheduling tools and systems to optimize time slots, manage calendars, and minimize scheduling conflicts. Our dedicated team coordinates with your sales representatives, ensuring that appointments are conveniently scheduled based on their availability and the preferences of potential customers. By streamlining the scheduling process, we enhance the efficiency of your sales pipeline, allowing your team to focus on what they do best – closing deals.
Appointment Confirmation and Reminders
Our appointment setting service includes timely confirmation messages and reminders that significantly help us meet the deadlines. We send out professional and informative appointment confirmations, ensuring that customers have all the necessary details and are prepared for the upcoming meeting. Additionally, we provide reminders closer to the appointment date and time, minimizing the chances of no-shows and facilitating a higher attendance rate. These proactive measures contribute to a more organized and productive appointment setting process without creating any issues related to solar appointment setting.
Continuous Follow-up Support
Our commitment to your success extends beyond the initial appointment. We provide continuous follow-up support to nurture leads and maintain engagement even after the initial interaction. Our dedicated team understands the importance of building relationships and addressing any concerns or questions that may arise. We engage with potential customers, providing additional information, clarifications, and personalized follow-up communication to keep them interested and informed. This consistent and attentive approach enhances the likelihood of conversions and fosters long-term customer relationships, leading to repeat business and referrals.
How Our Appointment Setters Help Drive Your Business Growth
Our appointment setters are instrumental in fueling your business growth by delivering tangible results. Through their expertise in solar appointment setting, they identify and engage with prospects who are genuinely interested in adopting solar energy solutions. By scheduling appointments with these qualified solar appointment leads, our appointment setters create valuable opportunities for your sales team to showcase the benefits of your solar products or services. This targeted approach not only increases your conversion rates but also optimizes your sales efforts by focusing on the most promising prospects. With our appointment setters driving your business growth, you can confidently expand your reach in the solar market and achieve sustainable success.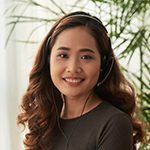 Call +1 (888) 875-0799
The Strategic Benefits of Our Solar Appointment Setting Services
Holistic Market Understanding
In the rapidly evolving world of solar energy, staying current with market trends and developments is crucial. Our Solar Appointment Setting Services are founded on a comprehensive understanding of the solar energy market. We're continuously keeping up-to-date with technological advancements, regulatory changes, and market trends. This knowledge allows us to tailor our appointment setting strategies, ensuring the message we communicate on your behalf is timely, compelling, and relevant. Our holistic market understanding enables us to connect with prospects on a deeper level, reinforcing trust in your brand and driving the decision-making process towards a successful sale. With our services, you can confidently navigate the complex solar market, armed with insights that boost your competitive edge.
Precision Matching and Qualification
Our Solar Appointment Setting Services stand out due to our unique approach to precision matching and qualification. We know your time is valuable, and we want every appointment you attend to be worth your effort. We meticulously scrutinize each potential prospect, evaluating their level of interest, financial capability, and genuine intent to transition to solar energy. This process ensures that you're only meeting with the most promising solar appointment leads, thus increasing efficiency and effectiveness of your sales process. By reducing the amount of time spent on unproductive meetings, your team can dedicate more resources to closing deals and fostering relationships with genuinely interested and viable prospects. This focused strategy significantly enhances your conversion rates and optimizes your return on investment.
Enhanced Customer Journey
We believe that a successful sale is the result of a well-managed customer journey. Our Solar Appointment Setting Services go beyond securing a meeting. We start by pre-appointment education and nurturing, equipping potential customers with the necessary understanding of your solar offerings. We focus on articulating the value and benefits of your solutions, setting the stage for a productive discussion during the actual appointment. Post-appointment, we implement effective follow-up strategies to maintain engagement and capitalize on the momentum built during the meeting. Our comprehensive approach to managing the customer journey increases not only your chances of conversion, but also the potential for customer loyalty and referrals. We're not just setting appointments, we're setting the stage for your long-term success.
Why Should You Choose Our Solar Appointment Setter?
Unlike other solar appointment setting companies in the industry, we've created our uniqueness by offering some useful features to our clients. From the extensive list, we want to mention some of these.
Specialized Solar Sales Expertise
Our team boasts unique proficiency in the solar industry, which is critical in the fast-paced renewable energy sector. Understanding the subtleties of solar technology, market trends, government incentives, and financing options, we can effectively convey the benefits and value of your solar solutions. We also appreciate the consumer motivations and barriers to solar adoption, which allows us to communicate persuasively with potential customers. This deep industry knowledge enables us to establish credibility and trust with prospects, fostering strong connections for your brand. Moreover, our capability to fluently converse about your offerings means that every interaction we have on your behalf is a compelling pitch, enhancing the chances of appointment conversions.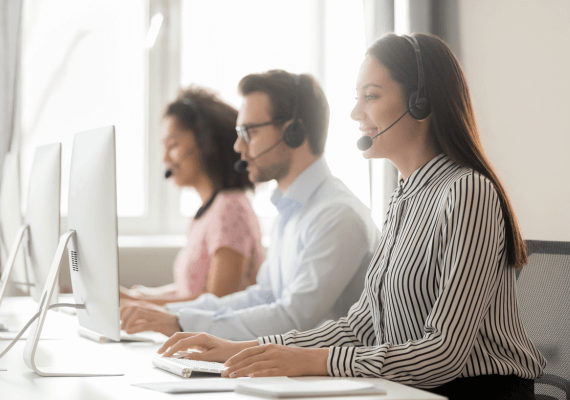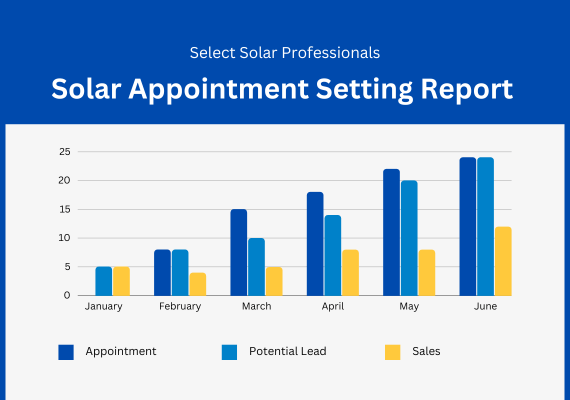 With numerous successful campaigns under our belt, our solar appointment setting service is supported by a proven track record. Our history highlights consistent delivery of high conversion rates and an ever-increasing client base. We're not merely about setting appointments, but about forging fruitful connections that yield business results. We believe in transparency and can provide case studies and testimonials that affirm our successful track record. This tangible proof of our effectiveness will give you the confidence to invest in our services, assured in the knowledge that our tried and tested strategies consistently drive business growth.
Customized Approach to Homeowners
We take pride in our ability to adapt to the unique needs of each homeowners. Understanding that every solar company has distinct objectives and target markets, we dedicate time to understand your business, offerings, and growth goals. We tailor our appointment setting strategies to match these, creating a bespoke plan of action that is aligned with your business trajectory. Whether your aim is to target residential customers, commercial entities, or a specific demographic, our specialized approach ensures that your brand's message reaches the right audience. With us, you don't get a one-size-fits-all solution but a personalized service that maximizes the potential for success.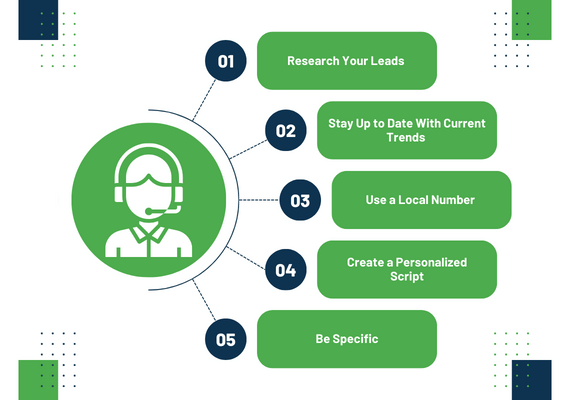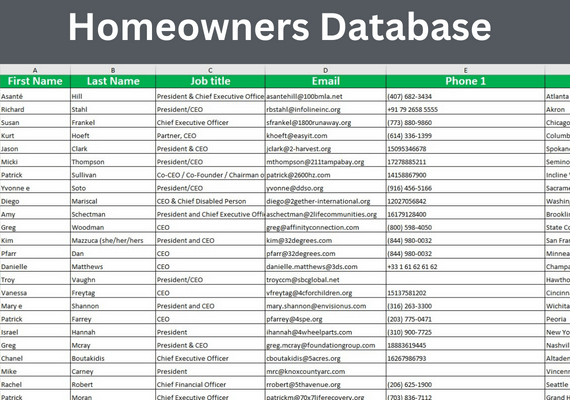 Enriched Homeowners Database
One convincing factor for selecting CallingAgency is our extensive database of homeowners, which enables us to extract and generate qualified solar leads and prospects for targeted cold-calling and email. Utilizing our vast data store of homeowners, we schedule solar appointments, ultimately increasing the likelihood of successful exposure. Additionally, our appointment setters possess essential information such as the resident's name, phone number, email, and length of residence, which further enhances the potential for converting leads into customers for your solar business.
Our service is not merely about appointment setting; it's about optimizing your entire sales process. Starting with pre-appointment nurturing, we ensure that prospects are well-prepared and informed about the value of your solar solutions. Our work continues post-appointment, with strategic follow-ups designed to maintain momentum and keep the prospect engaged. This comprehensive approach increases the likelihood of successful conversions while fostering long-term customer relationships. Investing in our services means choosing a partner dedicated to streamlining your sales process and accelerating your business growth. With us, your sales cycle becomes a well-oiled machine, driving you towards your business objectives.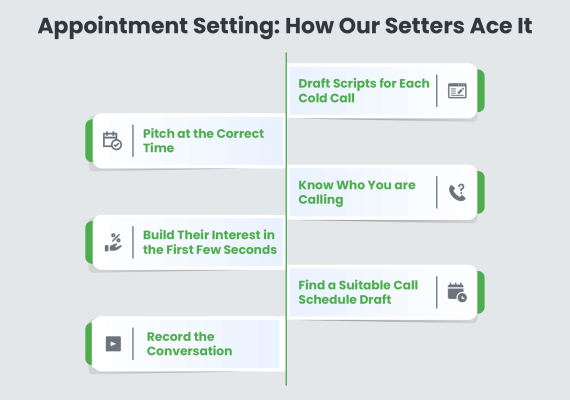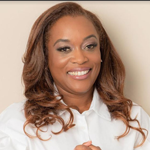 We have been working with them for over a year now and have found them to be extremely professional, efficient, and responsive. Great experience!
Nataki N. Appolon
Partner at Warren Warren & Appolon LLP.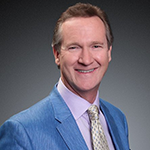 Their team has played an integral role in supporting our customer service efforts, helping us to deliver outstanding customer experiences. Their overall effort has boosted my growth curve. Impressive!
Michael Marks
Broker-Associate at Keller Williams Realty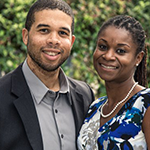 Their call center services have been instrumental in our business growth, allowing us to focus on our core operations while they handle our customer inquiries. I love how they handle each project. Great job!
Chaz & Chi-Chi Tyler
REALTOR at Keller WIlliams Advantage Realty
Have any further Question?
We are active 24/7/365 to hear from you. Feel free to contact us and get all your queries answered.
Frequently Asked Questions