If you need flexibility and have a desire to work remotely, setting up appointments is a fantastic career. Even if the compensation is poor by Western standards, it may be more than enough for people who live abroad in nations with lower living costs.
Moreover, this job is very suitable for women. They can easily do this job from home. According to Zippia, women make up 73.7% of all appointment setters, while males make up 26.3%.
So, many people want to become remote appointment setters. But they don't know the process and what things are needed to be an appointment setter. Even they probably don't know the works of an appointment setter!
Actually, as an appointment setter, you operate as a contractor for a company. You have to follow up on generated leads and schedule appointments with potential clients. This position is crucial to marketing and sales. It frequently serves as the initial point of contact for potential consumers to evaluate their interest in the company's goods or services.
This article will discuss in depth how to become an excellent remote appointment setter, the benefits, and how to find appointment-setting jobs.
Remote Appointment Setting Overview
You don't need any educational degree or background to be an appointment setter. For this job, you need some relevant skills. Below, we will discuss what skills you need to be an appointment setter.
A remote appointment setter collects leads either through research or through a list that the client or business provides. Then, he contacts the potential leads. The appointment setter frequently phones a potential lead to schedule a sales meeting. For this, he may use either a manual or automated procedure.
Contacting leads, usually obtained through cold calling, to pitch a good or service to set up a more official sales or marketing meeting is part of the appointment setter's duties. If the first call goes well, a sales team member and the potential customer will frequently schedule a face-to-face appointment.
The appointment setter's ultimate objective is to get in touch with as many leads as possible and grab their interest in the service or product. They also try to arrange a meeting between them and a corporate representative. Appointment setting service is a vital first step for a sales team, and the job done by appointment setters aids in the sales team's performance.
These jobs frequently allow you to work remotely from home and are known as telecommuting.
Skills You Will Need To Be an Effective Appointment Setter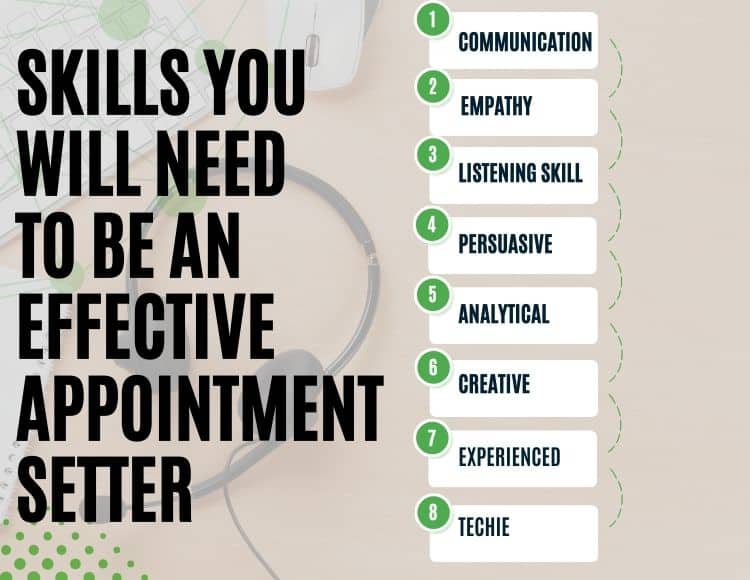 You don't need any educational background to be an appointment setter. However, you need the following skills. You can become a good appointment setter if you become well-skilled in these.
Below, we will discuss the skills and how these skills can help you to be an excellent appointment setter.
1. Communication Mastery
You need to become a master in communication to be successful in the appointment-setting job. It's a telemarketing service, and you are the business's entrance. You have to convince the potential customers of the company's product and service. So, it depends highly on whether the customers will convert. Successful booking will depend on your communication skills.
Let's say you are working for a solar company, If you are not good with your words, you will not be able to set appointments as a remote solar appointment setter because the homeowners will not talk to a person who doesn't know how to talk properly.
2. Empathy
Empathy is the capacity to realize and experience another person's feelings. To understand the needs of your potential clients and establish a connection with them, as an appointment setter, you need empathy. It will help you to convert customers.
3. Active Listening
People always want to tell, not listen. As an appointment setter, you have to satisfy your potential clients. If you are a good listener, you may make your customers happy with this skill. Moreover, for this skill, people frequently share their pain points. It will help you to understand the customer's needs to book the right appointment.
4. Persuasive Skills
Persuasive skill is the capacity to persuade someone to act or hold a certain belief. You must be able to convince people to arrange appointments with you to be a successful appointment setter. This skill necessitates communicating the appointment's importance and why the client should go.
5. Analytical Insight
As an appointment setter, you need analytical understanding since it enables you to evaluate the opportunity and qualify leads successfully. To choose the optimal strategy for each call, you must be able to read prospects and employ common sense and people skills.
Additionally, if you are skilled in data analytics, you can regularly report on response rate, open rate, forecasting, and other complicated KPIs and offer suggestions for improvement. The sales staff can benefit from this to better understand their performance and make data-driven decisions. Analytical knowledge can improve your performance in your position and assist the sales team's success.
6. Wit & Creativity
Wit and creativity can help you to engage with potential customers more effectively and memorably. A witty and inventive appointment setter may captivate their prospects' attention and leave a lasting impression using humor, storytelling, and other strategies. Potential clients may be more inclined to set up an appointment with the sales team if this helps to establish a connection and trust with them.
Additionally, wit and imagination can help you think quickly on your feet and develop creative solutions to problems that might emerge. In general, wit and creativity can assist you in being more successful in your job and support the sales team's performance.
7. Sales Related Experience
An appointment setter should have sales experience to understand the sales team's demands and processes. If you become an expert in sales, you can efficiently qualify leads and set up B2B appointments with potential businesses by utilizing your expertise in sales approaches and strategies. This experience might improve the sales team's productivity and efficacy, which would eventually help the company succeed. Sales-related experience can help you a lot in a B2B appointment setting.
8. Tech Proficiency
Your tech proficiency skill is a must for appointment-setting jobs. It will give you extra productivity in your work. Modern businesses heavily rely on computerized technology to quickly finish enormous volumes of work. You should be familiar with computer software and programs as this position requires the ability to manage numerous duties simultaneously.
These skills will help you to attain a good appointment-setting job. So, you should make yourself to become a good appointment setter.
What It Needs to Become a Remote Appointment Setter
Several prerequisites and abilities can be useful for becoming a remote appointment setter. Having a sales knowledge, being computer proficient, and having exceptional verbal, writing, and interpersonal skills are some qualifications for this position.
Additionally, having outstanding phone manners, attention to detail, and listening skills can be crucial for this position. In addition to being persuasive and results-driven, a remote appointment setter may benefit from having a professional and pleasant manner.
Besides, you have to be consistent in your work. Your work consistency makes you sharper. Then, you can take the right tactics to attract clients. It's very crucial to get a remote appointment-setting job. You also make a good portfolio of your work. It showcases your skill set. Finally, you should make a perfect resume for a remote appointment setter job.
These skills and equipment are only some of the things. Importantly, you must be more skillful and consistent to succeed in this profession.
Why Do People Need Remote Appointment Setters?
People need remote appointment setters to give their customers various services cost-effectively. They also need remote appointment setters because they work remotely to set up appointments between sales representatives or business owners and potential clients or customers.
Appointment setters use various methods such as phone calls, emails, social media, and other communication channels to generate leads and schedule client appointments. Connecting potential customers with the sales team is the primary objective of a remote appointment setter for the latter to close deals and create income. 
Some of the services that remote appointment setters do for businesses:
These works are time-consuming and have to be done on time. So, people normally appoint appointment setters for these jobs.
Benefits of Becoming a Remote Appointment Setter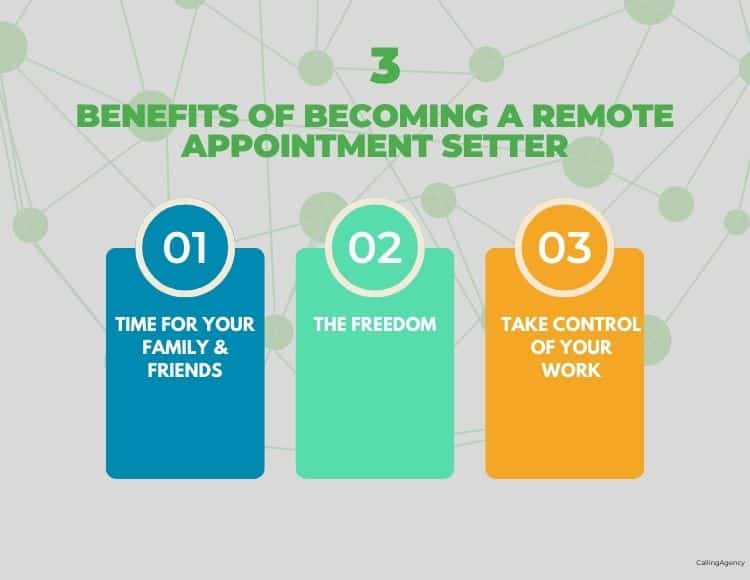 The main benefit of becoming a remote appointment setter is the opportunity to work from home and earn a living. As an appointment setter, you may have much time for your family and friends. This will give you peace of mind. You will then be more inspired to work and increase your productivity.
Besides, you can get more freedom than a desk job. In a desk job, you must stay in your office; normally, you don't have your comfort zone. You have to work in that situation. On the other hand, in a remote job, you can find your comfort zone to work. You have the full freedom to work as well.
Moreover, as a remote appointment setter, you have control of your schedule. In some cases, you can change your schedule as you wish. You can take control of your work in this job. Additionally, remote employment has several benefits over conventional office employment. They include increased flexibility, better work-life balance, and more autonomy.
How To Find Appointment-Setting Jobs
There are many places where you can find appointment-setting jobs. It's still being determined where you will find your preferred job. But you should build your profile in every place. Importantly, you should customize your profile with your best effort to showcase your skills. Here are some renowned places to find appointment-setting jobs.
Facebook Groups:
You can find appointment-setting jobs from various job-related groups. You have to be just careful of fake buyers.
LinkedIn:
LinkedIn is the largest social media platform for professional people. This social media makes it very simple to find a job. You can build your profile with your skillset. The job alert feature of LinkedIn will help you find a preferred job.
Upwork:
Upwork is one of the best marketplaces to work. Here, you can find a job in an appointment setting easily. In Upwork, you can work on an hourly basis or project basis.
Indeed:
In recent years, Indeed has become a good marketplace for the appointment setter. There are numerous job on appointment settings in this marketplace.
Final Thoughts
The work of an appointment setter is flexible and earns a respectable income. For those who desire to work from home, it is perfect. There are also low entrance barriers in terms of academic education. You don't need a degree to begin.
Only a few skills and fluency in English are required to work with businesses in the United States, Australia, Canada, or Europe. Additionally, you'll find employment much more easily in nations where you hold citizenship.
There are many advantages to becoming an appointment setter. One of the largest is how popular it is. Nearly every sales team requires one or more to set up high-quality appointments quickly. Consider working as an appointment setter if you want to be flexible, earn a respectable salary, and support a sales team.