Companies rely on a multitude of professionals to ensure their success. While some roles take the spotlight, others work behind the scenes, playing an important role in a company's growth.
The role of a Janitorial Appointment Setter may not be the most commonly discussed. However, it's undoubtedly one that keeps the wheels turning in the janitorial service industry.
According to Zippia, Currently, about 17,965 appointment setters are working in the US.
A Janitorial Appointment Setter is the unsung hero connecting janitorial service providers with potential clients. This integral role requires a unique blend of skills and knowledge. This integral effort can elevate a janitorial business.
In this article, we will know what janitorial appointment setters do and their role. We also unveil their key responsibilities and essential skills. Whether you want to work in the cleaning sector or are just interested in the parts that go together, this guide will explain their essential function in the overall janitorial services environment.
Let's jump in the deep.
What Is a Janitorial Appointment Setter?
A Janitorial Appointment Setter is a professional responsible for a crucial aspect of the janitorial service industry. Their primary role is to connect janitorial service providers with potential clients. They serve as the initial point of appointment setting.
Janitorial Appointment Setters play a pivotal role in expanding the client base of janitorial businesses by identifying potential clients, addressing inquiries, and facilitating consultations.
Their work requires a combination of effective communication skills and a good understanding of janitorial services. They should also have the ability to build trust with prospective clients. They are the core of janitorial services.
What Does a Janitorial Appointment Setter Do?
A Janitorial Appointment Setter serves as a critical link between a janitorial service company and potential clients. Their primary responsibility is to establish and nurture connections with a warm conversation. This is the main difference between lead generation and appointment-setting services.
These professionals engage in various tasks. They make outbound calls to reach out to potential clients, address client inquiries and concerns, and coordinate appointments for in-depth discussions.
They must have a strong grasp of the janitorial services offered by their company, as this knowledge is essential for effectively communicating with potential clients. Normally, they-
initiate contact

introduce janitorial services

schedule consultations

Follow-up the clients
Additionally, they provide valuable insights into client needs, preferences, and trends. By doing so, they contribute to the continuous improvement of the appointment-setting process.
Top Responsibilities Of A Janitorial Appointment Setter
Although lead appointment-making is a janitorial appointment setter's main duty, there are still a few other major duties.
1. Janitorial Service Familiarization
The primary responsibility of a janitorial appointment setter is understanding the janitorial company's services and the niche. They have to be familiarized with the whole environment. That means they have to have high expertise in the niche service, and in-depth knowledge is mandatory.
There would be a ton of queries and typical worries when contacting the client. It can be difficult to answer a question accurately and conduct a casual conversation with prospects when one needs more information. 
This sets the position apart from other telemarketer agents. A telemarketer retains product-related knowledge because their sole goal is to close sales. 
However, the appointment setter is largely responsible for lead creation. Therefore, having a deep understanding of the product or service is essential. Thus, when arranging meetings with companies or individuals, appointment setters can professionally conduct themselves and maintain a natural tone of voice.
2. Outbound Calling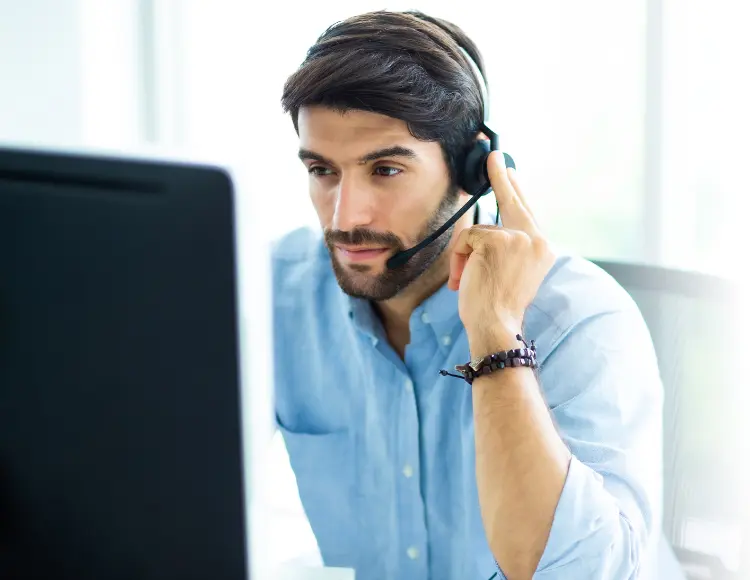 It frequently takes perseverance and grit to establish appointments successfully through outbound calling. Only some phone calls lead to a meeting. The greatest strategy, nevertheless, is to be consistent in order to acquire insurance agents' appointments.
The appointment setters are highly skilled in cold calling and cold emailing techniques. A list of databases is the first step in the strategy to contact prospective customers who fit the janitorial services' demands and demographics.
The preparation of the script is quite helpful because there is already a solid level of familiarity with janitorial services. This guarantees that the important data is understandable and reliable. Effective communication abilities should be present, along with a concise introduction that explains the call's goal. 
The next step is to schedule a meeting with a broker or sales team for janitorial service once prospects show interest.
3. Inbound Janitorial Client Interaction
A janitorial appointment setter's duties include answering inbound and outbound calls. They operate as a team in an inbound telemarketing or outbound telemarketing team, which handles this kind of interaction.
Answering incoming messages, calls, or inquiries from prospective customers who are interested in purchasing janitorial services. This makes sure that clients interact inbound.
Customers may ask an endless number of queries. Answering can seem frustrating at times. But regardless of whether a deal is finalized or not, a professional should engage as much as possible. 
4. Addressing Janitorial Service Related Queries And Concerns
A janitorial appointment setter is responsible for handling inquiries and issues related to cleaning services. This could involve answering questions about the services. They also resolve any problems or provide information on procedures and policies.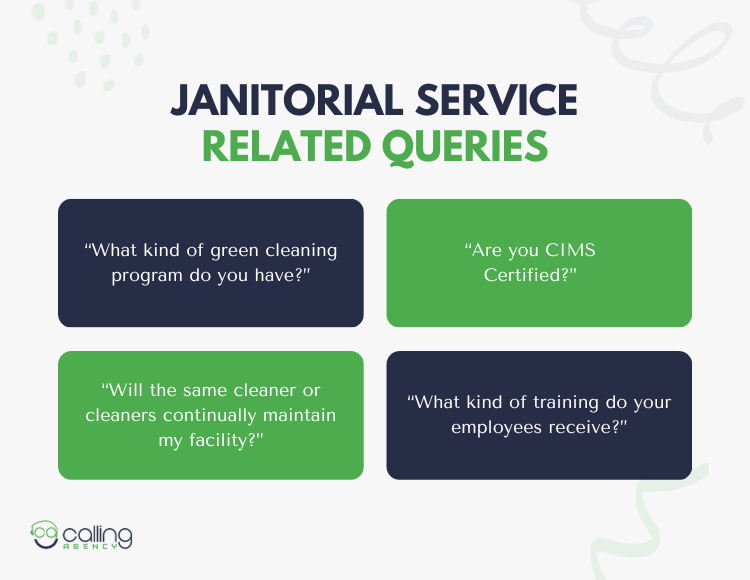 Their role is to ensure that clients have a clear understanding of the services and are satisfied with the provided solutions.
Addressing the related concerns helps to develop the trust of potential clients, and they will feel more comfortable sharing their pain points. It will help to scale up the janitorial business as well.
5. Facilitating Janitorial Consultations
It is a significant aspect of janitorial services. It refers to arranging meetings between potential clients and service providers. The purpose of these consultations is to create a platform for open discussion.
Clients can express their specific cleaning needs, expectations, and preferences. On the other hand, service providers get an opportunity to understand these requirements in detail. They can then customize their services to meet these needs effectively.
This could involve adjusting cleaning schedules, choosing suitable cleaning products, or allocating resources efficiently. Overall, these consultations ensure a personalized, client-centric approach to janitorial services, leading to higher client satisfaction.
6. Attempting To Contact Prospective Janitorial Clients
There are other efficient sales channels in addition to inbound and outbound strategies, which are excellent means of reaching prospects. Appointment setters may use these to try and connect with their clients.
Cold emails, social media, website interaction, and other methods can be used. Digital marketing is currently heavily influenced by social media, and there is a good probability that you will attract more potential clients for the janitorial business.
If the janitorial company has a website, a list of such individuals can be used to contact prospects in the future through organic traffic or engagement. 
7. Feedback Loop With Management
Establishing a feedback-driven loop increases client satisfaction. It boosts performance and falls under the purview of the appointment setter. 
The fundamental idea is to collect and analyze client reviews and comments at the time of each interaction or shortly after that. It is helpful to use surveys or just to ask general questions.
Regular management is required to search for fresh trends or areas for enhancement, such as the general strategy. It would help if you adapted to ongoing change based on the demands of your clients and the state of the market. 
All of this ought to operate on a recurring basis.
The top responsibilities of a Janitorial Appointment Setter encompass various tasks. Really, their role is important in bridging the gap between clients and janitorial service providers.
8 Qualities And Skills For An Ideal Janitorial Appointment Setter
To set a janitorial appointment, an ideal janitorial appointment setter possesses a certain set of qualities and abilities. However, these abilities are most important regardless of whether you want to become a remote appointment setter.
The abilities will be developed and adjusted to shifting market conditions with the help of ongoing training and coaching.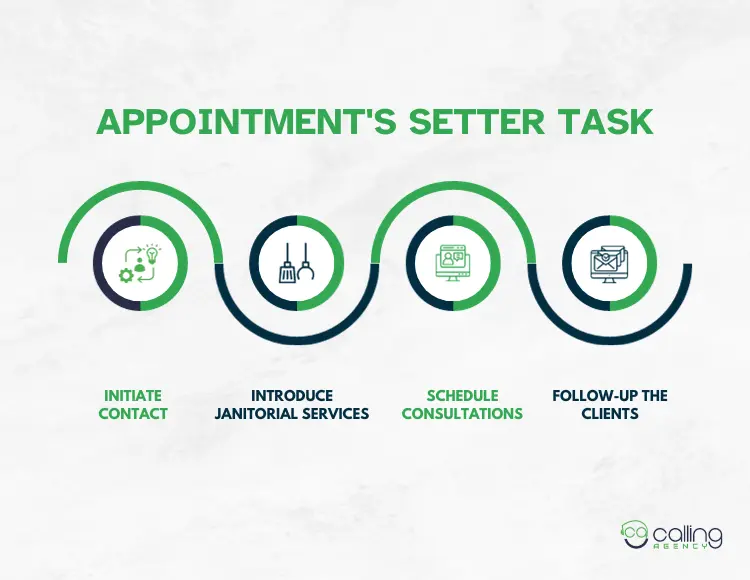 1. Relevant Experience
A key advantage is having prior expertise with janitorial services. The experience could be anything from telemarketing to appointment setup in various industries to sales personnel. 
Experience is only sometimes a must. Understanding the work, how to operate in a team, talking with individuals, and other processes become simpler. 
Because they can effectively employ modern instruments and trends, beginners can occasionally perform better than experienced ones.
2. Computer Literacy
A smooth workflow requires proficiency with CRM systems and computer software. It assists with client database management, appointment setting, and proper interaction logging.
Computer proficiency is now crucial in any marketing business due to modernization. It isn't easy to track results after dealing with a lot of clients unless you have a solid understanding of computers and modern devices.
So, this skill is essential for a janitorial appointment setter.
3. Communication Skills
The most important quality for any appointment setter is excellent communication. The way you approach your customer will have a big impact on how the entire interaction goes. 
You should be able to make the client feel comfortable with you thanks to your impeccable manners, etiquette, sense of humor, and other qualities. Here, developing relationships with potential clients requires good verbal and written communication skills.
Introduce yourself politely and professionally to begin the call. Include your name and the name of the business you represent.
Make sure to explain the advantages and worth of the janitorial services you are providing. Good communication skills help you to improve cold-calling skills.
4. Listening Abilities
Appointment setters are able to understand client wants, issues, and objections easily by using active listening skills. They can then modify their comments and solutions as necessary.
It also helps make a smooth conversation. "I understand," "Please go on," or "That's interesting" are good addresses to use for showing active listening.
Before beginning the job, be sure you can listen well. It can take much more patience than you imagine.
5. Phone Etiquette
When communicating with clients over the phone, being kind, professional, and respectful is essential. Additionally, some fundamental phone manners might improve conversation abilities.
The tone matters most before wording while talking over the phone. The tone should be friendly and respectful.

Many people disregard phone etiquette by not using greetings like "Good Morning" or "Good Evening."

Avoid using rude or unsuitable words and speak properly.

Avoiding multitasking and other distractions while maintaining conversational concentration.

Ask for the caller's consent and give an anticipated wait time before putting them on hold. Recheck in with them periodically.

Ask the caller if they have additional questions or requirements before hanging up.

Avoid arguing or defending yourself.

Use polite words like "please" and "thank you" as necessary.
This skill significantly helps a janitorial appointment setter to set a B2B appointment.
6. Professional Disposition
Maintaining a professional disposition is an indispensable attribute, especially when confronted with rejection or challenging conversations in the business world.
This facet of professionalism is the bedrock of trust and credibility in client relationships. Regardless of a client's demeanor or how discourteous they may be, your ability to navigate these interactions with courtesy and grace is paramount.
A professional disposition reflects resilience, adaptability, and a commitment to upholding the highest standards of conduct, even in the face of adversity. It's a critical factor in building and preserving successful, long-lasting client partnerships.
7. Persuasiveness with a Results-Orientation
In a janitorial appointment setting, the power to persuade potential clients and effectively influence their decisions stands as a vital skill. Successful appointment setters are adept at navigating the fine line between conviction and respect.
They employ their powers of persuasion to engage and captivate clients. What sets them apart is their unwavering focus on positive outcomes. They don't merely aim to secure appointments but are dedicated to driving results.
This results-oriented approach emphasizes not only filling the schedule but also ensuring that each appointment aligns with the client's needs and the broader objectives of the company.
8. Flexible Availability
Given that clients could have different schedules, flexibility in terms of working hours is crucial. In order to avoid rescheduling or missing appointments, the customer's calendar and the sales team's schedule should coincide.
There is a better possibility of interactions succeeding if you are also available on the weekends or in the evenings, if necessary. Therefore, a person setting insurance appointments should be proficient in time management. 
Conclusion
In janitorial services, the role of a Janitorial Appointment Setter may sometimes be in the spotlight. However, it is undeniably one of the linchpins that keep the industry moving forward.
These professionals are the initial point of contact, the relationship builders, and the facilitators of crucial connections that drive the success of janitorial businesses.
They are experts in making outbound calls, handling inbound inquiries, and addressing client queries and concerns with professionalism and knowledge. Additionally, their feedback loop with management contributes to the continuous improvement of the appointment-setting process.
Janitorial Appointment Setters play an important role in expanding the client base and ensuring the growth of businesses in this field. In a world where every client interaction matters, these professionals are indispensable, driving the industry forward and contributing to its continued growth.