Skilled call center agents mean more happy customers and a growth in business. These reps are the face and voice of a company. They have a great impact on brand reputation and the overall success of an organization.
This is why improvement in agents' performance by applying effective strategies has become a must for every company.
But out of a thousand solutions, which is the most effective one to improve agents performance?
To do so, there should be continuous training, standard SOP documents, and, most importantly, ensuring a positive work environment for the sales reps.
Today, this blog will show simple but practical ways to improve call center agent performance, excel in sales, satisfy customers, and ultimately qualify lead scoring.
11 Strategies to Improve Call Center Agent Performance
For sales lead generation, there is no replacement than a high-performing call center agent. And for this, there should be a proper plan and strategies that show positive results. 
Here are 11 strategies to improve call center agent performance that you can apply to see the actual change in your upcoming situation.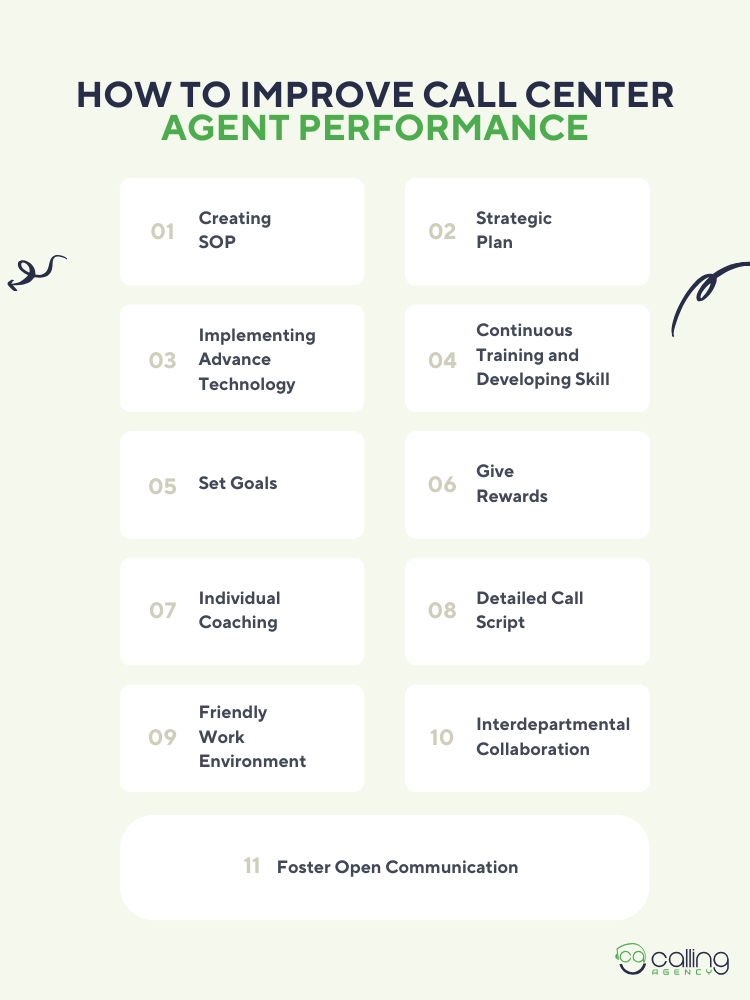 1. Create a Detailed Standard Operating Procedure (SOP)
The first step to improving agents' performance requires a well-organized work schedule, which is also called Standard Operating Procedure(SOP). 
Telemarketing or call center services first develop SOP and then provide it to the reps to guide them through a roadmap. 
This is a comprehensive document or simply guidelines that outlines all the step-by-step processes for a call center operation.
From the whole day's task, how to interact with customers to agents' behavior, write all these in an SOP. The newbies especially can better understand the work and have a clear vision overall.
Companies should be cautious while making a SOP for the reps, as employers are going to follow it precisely.
A good SOP contains several aspects. Such as, 
Purpose

Procedures

Responsibilities

Compliance requirements

FAQs
Again be precise about the documentation so all the agents can easily access the SOP.
2. Updating a Strategic Plan
Updates on strategic plans help organizations to reach broader goals and provide a clear roadmap for call center improvements.
For this, companies review the overall performance periodically to know where improvements or changes are necessary or whether the existing plan is working or not. 
Also, with the rapid change in customers' behavior, their needs and requirements change. A company must record these changes and record them.
After analyzing all the aspects, there should be a regular update on the plans or SOP. Maintaining consistency on the updates lets the agents adapt to changes quickly as needed and stand out in customers' expectations. 
3. Invest In Advanced Technology & Right Tools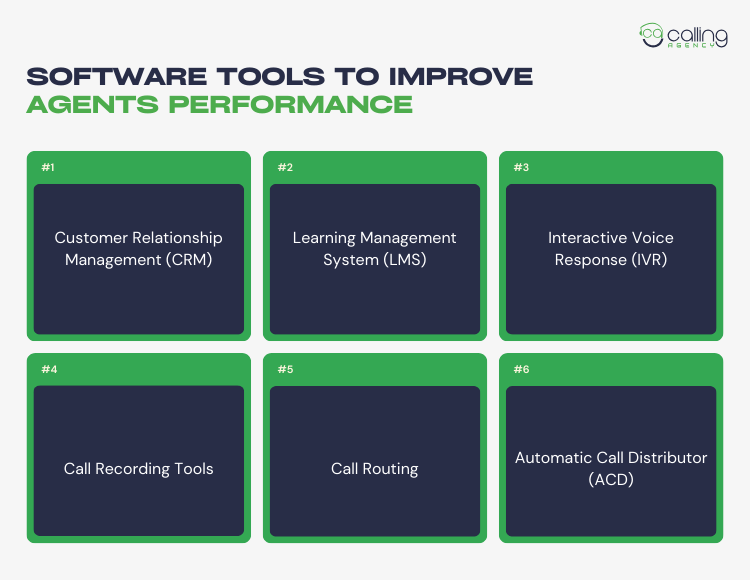 If you want your agents to streamline their workflow more efficiently. Provide them modern and efficient tools.
Firstly, using suitable software can give real-time and recent data and determine issues fast. Rather than checking out tons of databases manually, good software can supervise all of them alone.
Moreover, agents using several tools, chatbots, or software can help quickly do their tasks. 
There should be advanced, fast electrical devices to do multitasking smoothly.
It is best to use a CRM tool or cloud-based software to increase productivity in less time. Reps and both companies' reduction in workload still can bring a positive result.
To help you here, is a list of software tools to improve customer satisfaction and amplify customer service agent performance:
Customer Relationship Management (CRM)

Call Scripting

Knowledge Base

Learning Management System (LMS)

Interactive Voice Response (IVR)

Call Recording Tools

Call Routing

Automatic Call Distributor (ACD) or Dialars

Real-time Monitoring System
4. Implement Continuous Training and Skill Development
While call centers provide training to the newly recruited reps, there should be continuous training and skill development sessions for all call center reps.
Though service providers possess a bunch of skills, there should be periodic training for them to hone their abilities.
Companies can provide up-to-date product descriptions, give insight into recent industry trends and spread them among the sales members. 
Specifically, inbound call centers deeply rely on changes in customers' behavior or common pain points. Here, a regular adjustment in giving speech or interaction is crucial.
All these required workshops, seminars or e-learning modules which can enhance communication, problem-solving, and empathy skills for effective customer interactions.
5. Set Performance Goals for Individual Agents
Rather than monitoring overall performance, it is better to set some goals according to individual agents. 
These goal metrics can be average call handling time, less call bound rate, first-call resolution rates, more closing deals, or more B2B appointment setting. 
Setting individual goals encourages agents to strive to show excellence in their tasks. They get the motivation to complete their daily job on time, which indeed pushes them toward business growth. 
For example, in outbound telemarketing, telemarketers aim to reach more customers and need to fill out a daily list. By this, they stay alert and consistent about fulfilling their duty.
6. Employee Recognition and Offer of Rewards
Only setting goals does not end your responsibility. You need to offer rewards to motivate them to work harder. 
If someone sets more appointments, enlists pre-qualified investor leads, or sells products more than anyone, immediately appreciate them. Agents can feel more valued by this.
Everybody wants to be seen or recognised for their efforts. 
According to Zippia, 65% of employees express a desire for more feedback, and a significant 75% of employees who receive feedback find it valuable for enhancing their productivity.
This employee recognition can be verbal praise, certificates, or even monetary incentives.
Pay more attention to the top performers and help them to develop their skills. Announce their success across the whole office. By this, agents will start enjoying their work more than before and try to get better.
The rest of the employees, they also can get the motivation to do better in the future. They will also crave rewards. They will be careful about their flaws and try to improve.
7. Improving Individual Agent Coaching 
When you set goals for the sales agents, you can figure out your individual employers' lackings. Who is the top performer, or who is not able to provide the best customer service, and why?
Here, coaching is crucial for agents to overcome their flaws. Coaching sessions can be more training, role-playing, soft skill development or specific customer service scenarios.
Your best reps can help others to work better or share their tricks. By improving coaching techniques, call center agents can better meet customer expectations and boost overall satisfaction.
8. Make Effective Call Scripts
A well-structured call script is widely beneficial for call center agents. Whether it is a cold calling service, sales team or customer service, having a script means quick access to all information.
In call centers, there is no room for the delayed response. Customers will surely go to the competitor's hand if call reps can not handle them properly. 
Detailed script is one of the main reasons why cold calling really works today.
A well-written script with all details, common pain points, and FAQs allows agents to engage in natural and personalized conversations.
If you have appropriately implemented technology, then the work becomes more manageable. There is no need for a bunch of paper scripts. Agents can have them open on their screens and get an immediate update if any changes occur.
Call scripts should be adaptable to different customer scenarios and regularly refined based on customer feedback and agent input.
9. Create a Nice Working Environment for Your Agent
A pleasant, friendly work environment contributes significantly to agent satisfaction and performance. We have told you at the beginning that the more satisfied your agents are, the more they can pull more customers.
Before expecting high customer satisfaction or more sales of products, make your employees happy.
Make sure a comfortable workstation, necessary equipment, and a friendly atmosphere.
Give them extra facilities and their deserved rewards, and try to understand their needs or problems. All these surely force them to spread a positive image of your company.
10. Encourage Interdepartmental Collaboration
Another point that most companies ignore is interdepartmental collaboration. It can appreciably contribute to the improvement of call center agent performance.
There should be a transparent collaboration between sales, marketing or other departments, as well as the owners. By this, everyone can exchange information and foster a friendly relationship. Because a company's overall growth depends on every department's performance.
Also, it will provide more accurate and valuable assistance to customers.
Promoting teamwork can leverage collective expertise to enhance workers' performance and customer satisfaction.
11. Establish Open Communication and Get Feedback
To build relationships, trust and a healthy workplace, establishing open communication is the only way. 
This will surely improve call center agent performance. They will feel important if you listen to them. Ultimately, encourage them to perform with full dedication.
Also, since these workers directly interact with the customers, they have a clear insight into pain points, concerts, and what the customers want or need. So, you can take ideas, suggestions or feedback from them to adjust your business plan.
How Do You Measure Performance In A Call Center?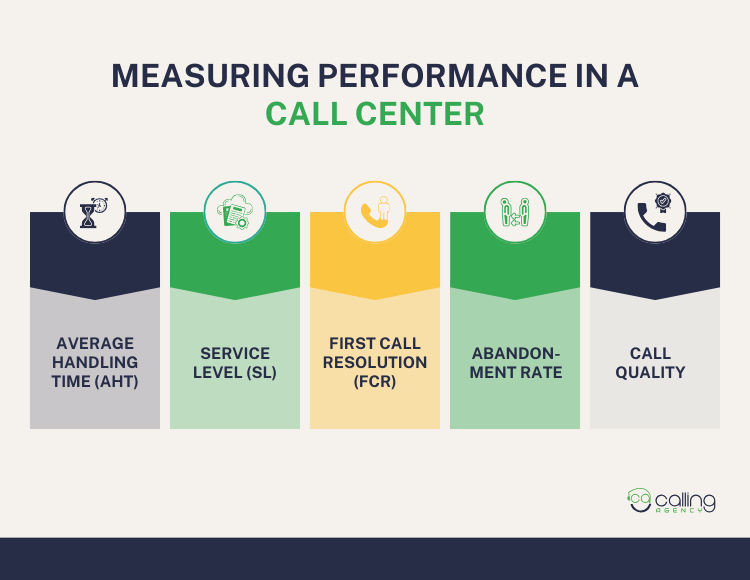 Only if you know the success rate, functionality, and place for improvements can you witness your business growth. Measuring the performance of your call center only can portray all of these.
As a company owner or manager, you need to regularly monitor calls, agent performance and all other key metrics. 
Let's have a look at the key metrics you can use to track your contact center performance.
Service Level (SL): Use this metric to measure the percentage of calls answered within a period of time frame. It ensures that customers don't have to wait excessively long to speak with an agent.
Average Handling Time (AHT): AHT measures the average amount of time an agent spends on a call, including talk time, hold time, and after-call work.
First Call Resolution (FCR): The percentage of calls that are resolved during the initial contact without the need for follow-up calls or escalations is indicated by FCR.
Abandonment Rate: Count the number of callers who hang up or disconnect before reaching an agent. A high abandonment rate may signal long wait times or service issues.
Call Quality: Customer satisfaction surveys and feedback can also provide valuable insights into how well agents are serving customers.
Verdict
Call center agents' performance directly impacts the business sales growth. This is why companies adopt newer techniques to pull better performance from their agents.
There are tons of steps you may encounter, but we have discussed the top 11 effective ways. 
Start with a detailed SOP plan, continuously invest in advanced technology, and set up goals to ensure employers' well-being by offering rewards or proper training.
This will work like a roadmap for you if you want more sales or lead generation in your business.