Do you want to create a positive customer experience from the very first interaction, convert them into quality leads, and finally increase revenue? Then what can be a better option than an appointment setter?
Appointment setters help maintain a consistent flow of leads and appointments. They are the initial point of the sales funnel where the company and prospects contact. 
These professionals ensure sales teams always have a pipeline of potential clients to engage. They help businesses make the most of their sales resources.
However, an appointment has additional responsibilities too. Today, we will be discussing all about What Does an Appointment Setter Do, their top responsibilities including identification, nurturing leads, and setting appointments.
What is an Appointment Setter?
An appointment setter is a professional and the first step of the sales funnel, where he works sustainably for lead generation by possessing a combination of skills, training, and experience. 
Simply put, an appointment setter initiates the interaction between prospects and the company or with any sales representative. Here, the chances of closing a deal are high because of the experience of the appointment setter; he only sets appointments with potential customers. 
The strategy the meeting setter follows is predictable and reliable.
Appointment setters contact prospects using various channels, such as social media, website engagement, or inbound calls. 
The appointment setting works like a solid base for the entire sale process. The primary goal is scheduling appointments as much as possible, directly facilitating company revenue growth. 
On a serious note, appointment setting is often mistaken by considering lead generation. But an appointment setter does multitasking rather than getting prospects only. This differentiates the difference between lead generation and appointment setting. 
What Does An Appointment Setter Do?
An appointment setter needs to do a lot of tasks efficiently, from reaching out to potential clients, setting an appointment, and database management to updating regular reports. 
The primary focus is to get potential customers and make an appointment. They need to have detailed knowledge about the company and their services. They greatly benefit the sales team, even considered SDR team members.
If you seek professional appointment setter help, agencies like Calling Agency can help you. Our main goal as an appointment setter is to contact leads, often through cold calls, and explain the service by ensuring the highest customer satisfaction, which can improve business growth.
However, there are some common tasks that a professional appointment setter normally does.
First of all, appointment setters learn all about a company, its services, history, revenue growth, and how it all works. They grow by understanding how the business actually works and what steps should be taken.

Make sure each client gets a positive experience and becomes satisfied with the conversation. 

Manage all kinds of concerns or questions relatable to the service that a customer may as

Pick inbound calls and properly explain the services or products.

Prioritize the appointment schedule according to engaging quality customers.

Keep a sheet including users who did not pick up calls and their pain points.

Strictly maintain documents about clients' leads accurately. 

Handle various sales channels to reach out to clients.

User various customer management tools and stay updated with cutting-edge technology.

Day by day, they improve themselves by adopting new techniques and exploring the best methods. 
Top Responsibilities Of An Appointment Setter
An appointment setter is mainly responsible for creating new business opportunities by hunting leads. The entire sales funnel relies on appointment setting mostly, as it is the initial stage.
The top responsibilities of an appointment setter include.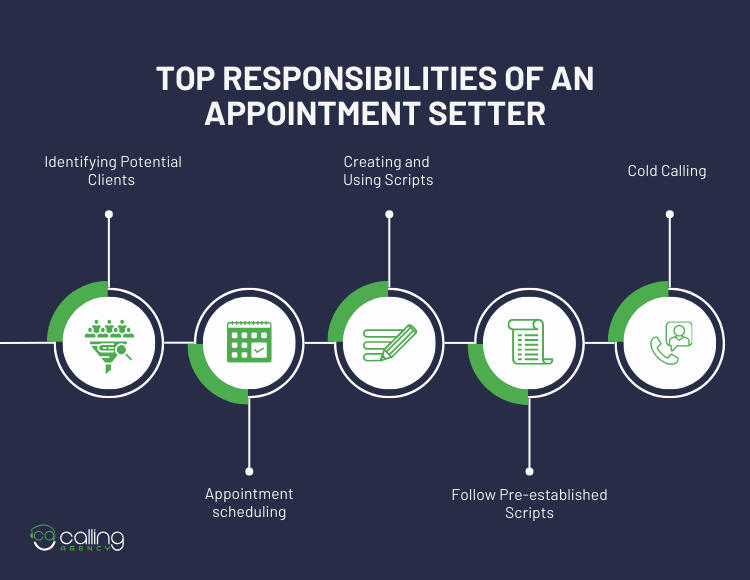 Identifying Potential Clients And Managing Leads
Appointment setters often begin with market analysis, deep research, and identifying potential clients. They work with a target audience and seek KDMs (key decision makers) in different mediums. Or sometimes work with a listed customer. 
Meeting schedulers identify leads with their experience and skills. They know when the possibility of closing a deal is high, so put extra effort into that. 
Identifying potential clients includes analyzing buyer persona and geographic location. In B2B business, they research company history or other details. 
Nurture and qualifying leads
After identifying prospects, it is time to either nurture leads or qualify them. 
Not all leads will be a good fit for the products or services offered. Appointment setters need to qualify leads by asking relevant questions to determine their needs, budget, and level of interest. This qualification process helps ensure that the sales team's time is spent on leads with the highest potential.
Again, many KDMs do not agree on accepting an offer at the first call. Hence, follow-up is necessary for nurturing leads. This step is tricky and needs to be maintained cleverly by the appointment setters.
Creating and Using Scripts
Appointment setters ' responsibility is creating and using scripts in a natural tone. With years of experience, some may not require any script, but a script is a must for the entry level appointment setter.
These scripts outline key talking points, valuable information, and objection-handling strategies. They are allowed to customize these scripts to suit different situations and leads while maintaining a consistent and compelling message.
Cold Calling
Cold calling is a fundamental part of an appointment setter's role. They may get a list of potential users from the sales team or may make their own enlisted audience. 
They are cold call and email marketing experts to reach the right consumer. It requires effective communication skills, a clear and persuasive message, and the ability to handle customers' questions gracefully.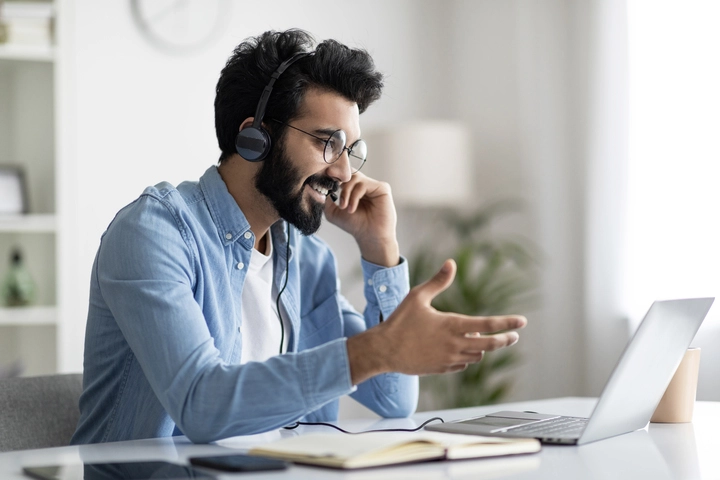 Appointment scheduling
Once a potential client shows interest, appointment setters are responsible for high-quality sales meetings or appointments. 
They need to coordinate with both the prospect and the sales team to find a suitable time and ensure that all parties can attend the meeting. With a successful meeting, the chances of leads converting to long-term customers are high.
Follow up
Following up with leads is a crucial step to keep the sales process moving forward. 
Appointment setters may need to send follow-up emails, make follow-up calls, update customer databases, reschedule missed meetings, or nurture leads. They do it until clients are ready to set a meeting or purchase. 
For an effective follow-up session, many depend on the CRM system to track interactions. 
Report Submit
Appointment setting includes regular report submission to the supervisor or owner, how they ask to do. The report needs to be accurate and detailed in all interactions. It is essential for tracking progress, analyzing results, and informing the sales team when or what they need to do.
Time management
Appointment-setting specialists have remarkable time management abilities. He needs to maintain punctuality and align both the sales team and prospects' timing. 
All the meetings have to be organized properly so they do not clash with each other. Specially for B2B businesses, they tend to be very strict with timing, so being late for the meeting can hamper the company's image. 
What Makes a Good Appointment Setter?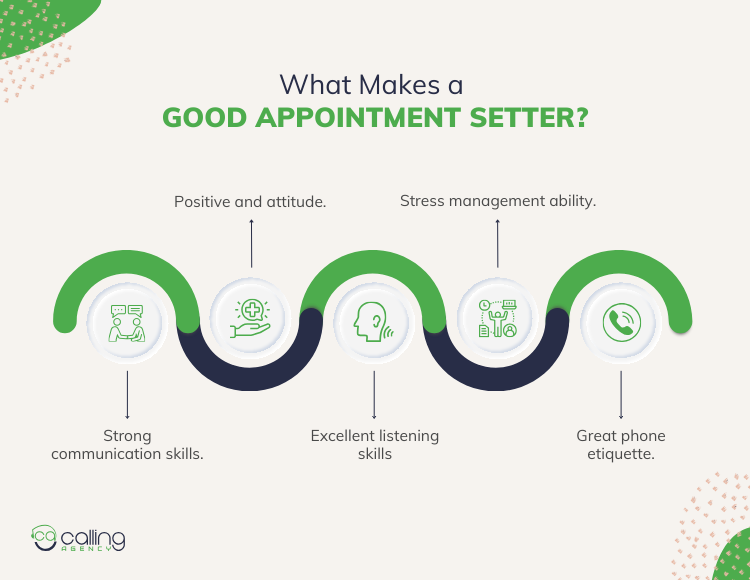 There are a lot of appointment setters available out there, but being a good appointment setter needs a bunch of quality.
Strong communication and multitasking skills.

Excellent listening skills and patience.

Great phone etiquette.

Positive and energetic attitude.

Stress management ability.

Organizational skills, good time management.

Successful computer and tool management.

Keep correct records about leads.

Handle rejection.
Verdict
Appointment setters are inseparable for businesses that want quality leads only in an efficient way. 
An appointment setter not only schedules meetings but also research and nurture leads, qualify them, align meetings with the sales team, daily update reports, and so on. So, they play a vital role in increasing revenue.
FAQ
What is the difference between an appointment setter and a telemarketer?
A telemarketer mainly cold calls customers and sells products only. In comparison, an appointment setter multitasks like setting meetings, generating and filtering leads, etc.
What kind of tools may the appointment setter need?
Appointment setters should know how to work with different tools for an efficient workflow. In general, they may need CRM software, email checkers, databases, spreadsheets, Google, or different analytical tools.